The Welding Co.
This is the Jacobs Welding Engineering kit from Inter-Action Hobbies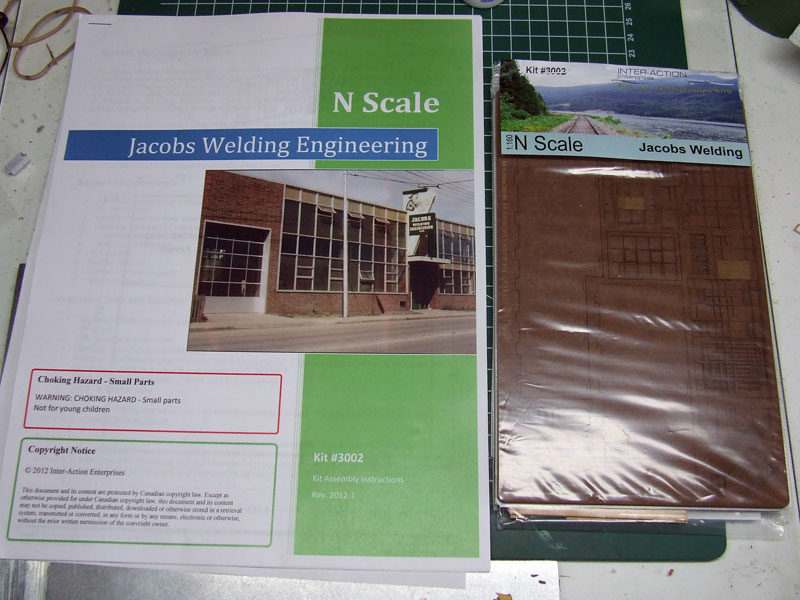 The very tidy packaging plus building instructions in full color.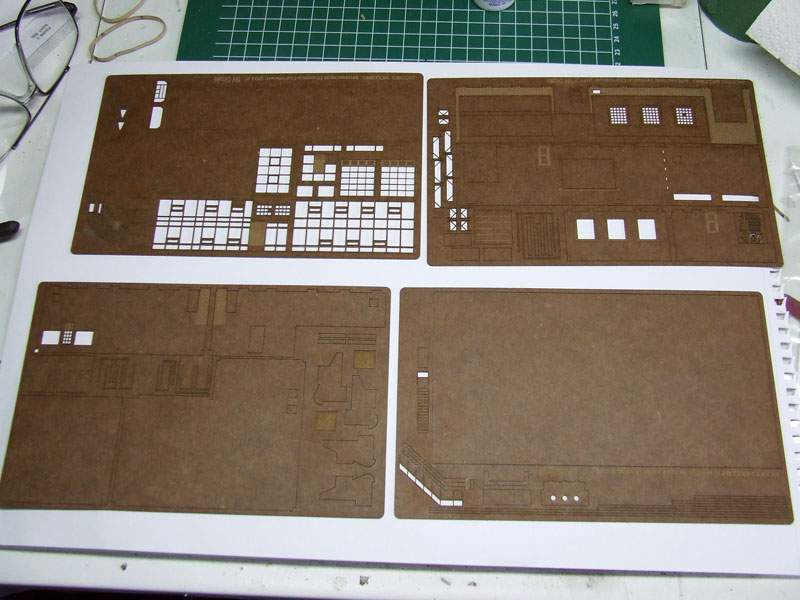 Very crisp lasercutting thanks to resin impregnated board.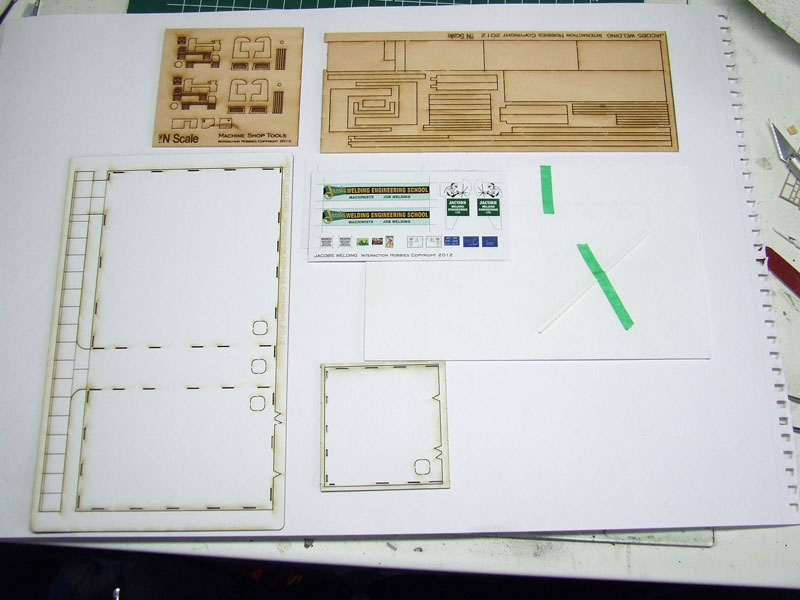 There are some machines included in the kit for the interior, like a bandsaw and a lathe ( upper left corner ).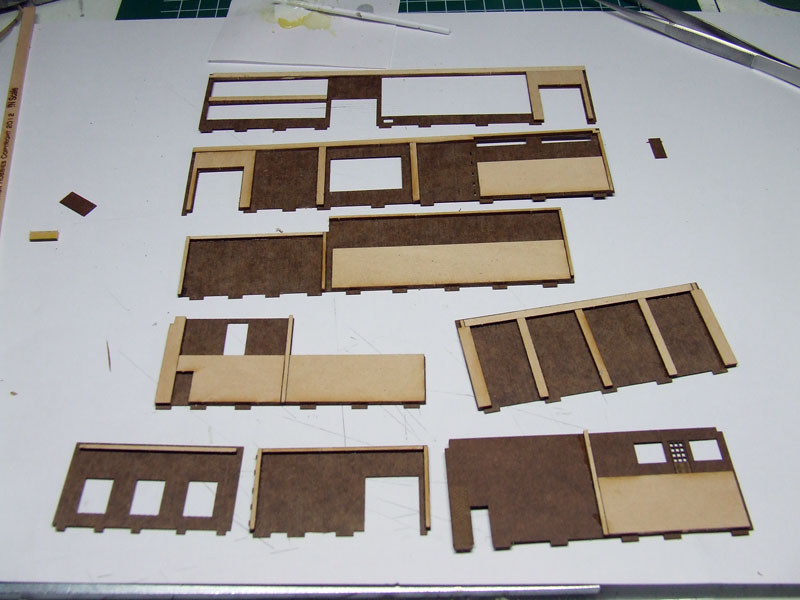 Bracing is done by exactly following a diagram because the bracing is also the means to fix together the building.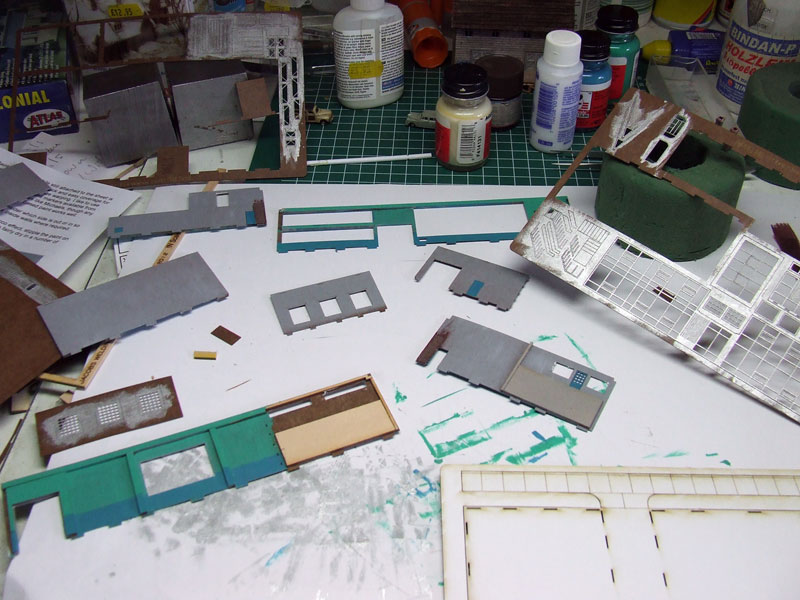 Several painting stages.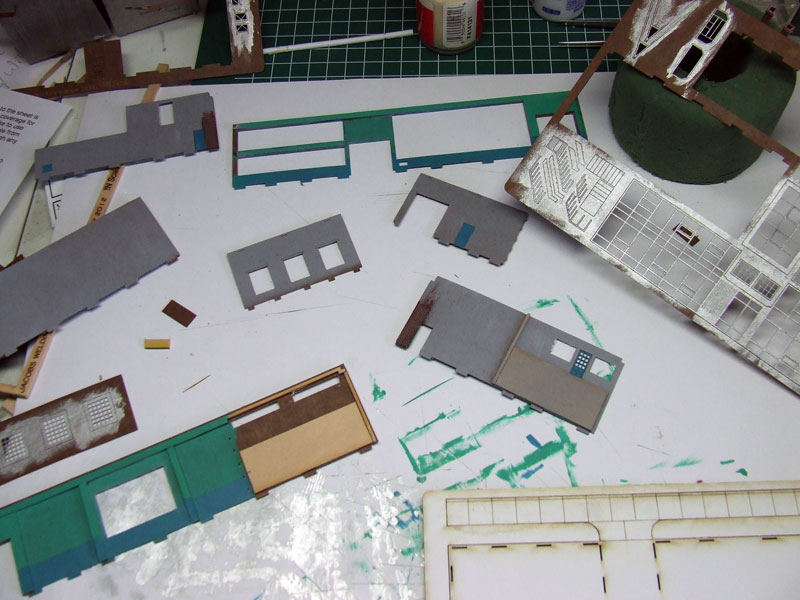 I chose NYC Jade Green and St Lawrence Blue for the interior colors, and St Lawrence blue for the panels and doors.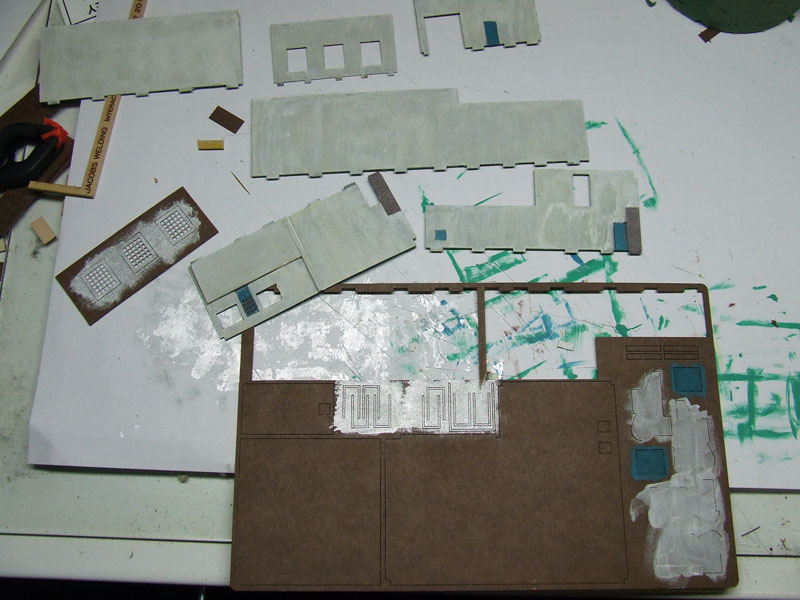 Tamiya Flat Aluminum for the windows.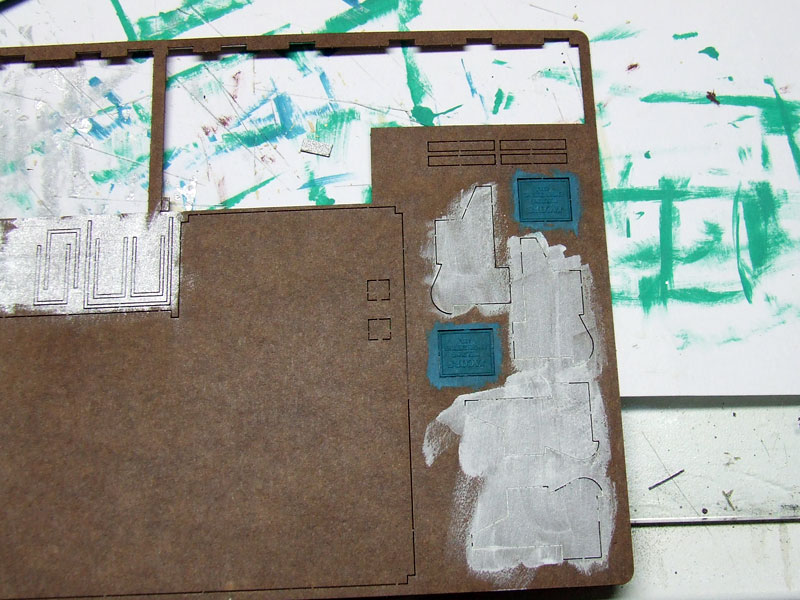 Several painting stages.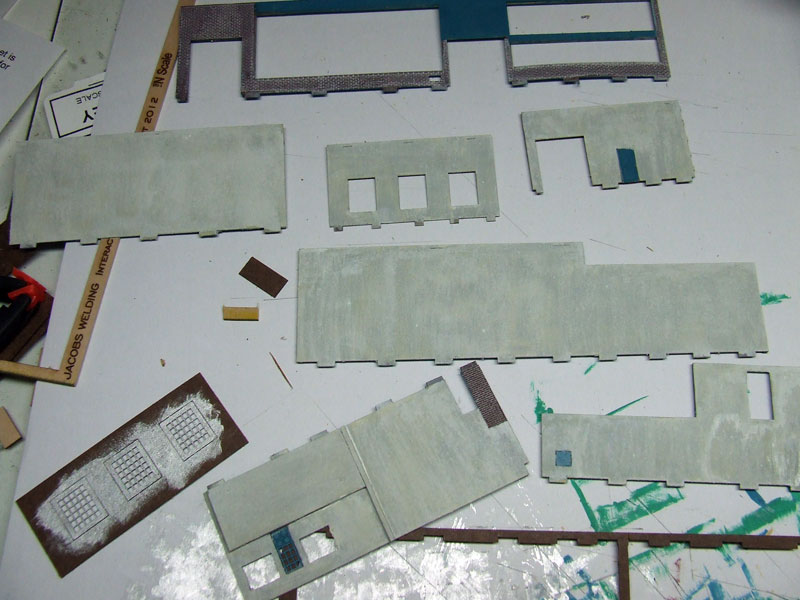 The stuco exterior is Lucas struktur paste, painted first with Aged White and then water dilluted Tamiya Flat White
Some of the walls ready for assembly.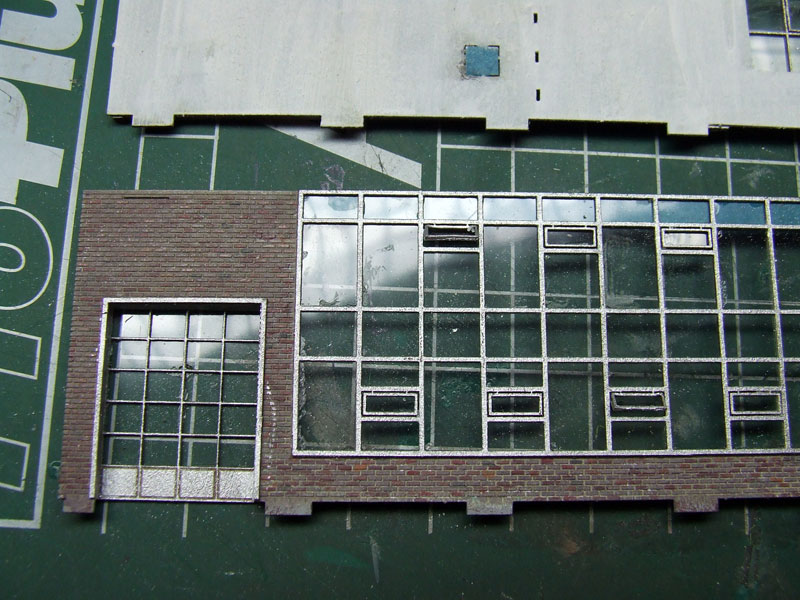 The brickwork is a base of Gunze Sanyo Steinbraun, and 7 different colors of reds and oranges to highlight single bricks, the mortar is Aged Concrete.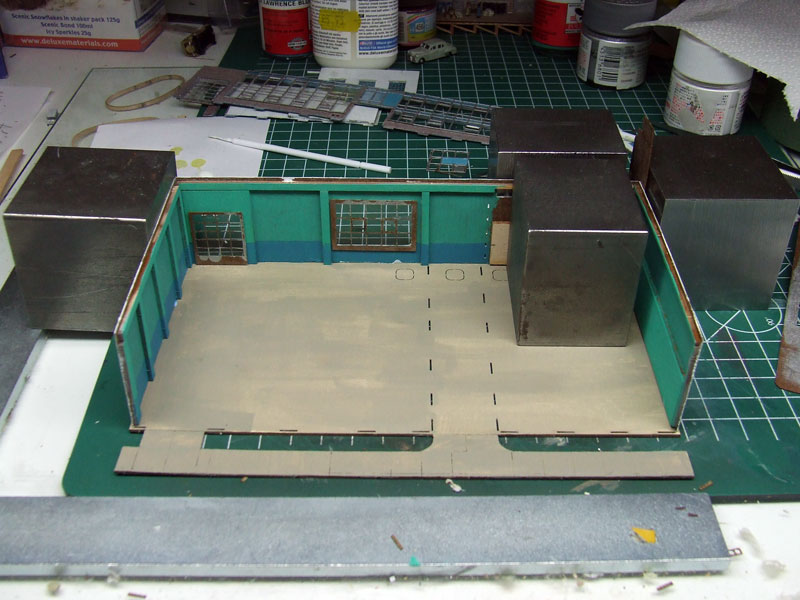 Assembling the walls , the base has slots in it for easy placement, while assembling the walls it becomes very clear that fixing the bracing exactly according to the diagram is very important, margins are very small.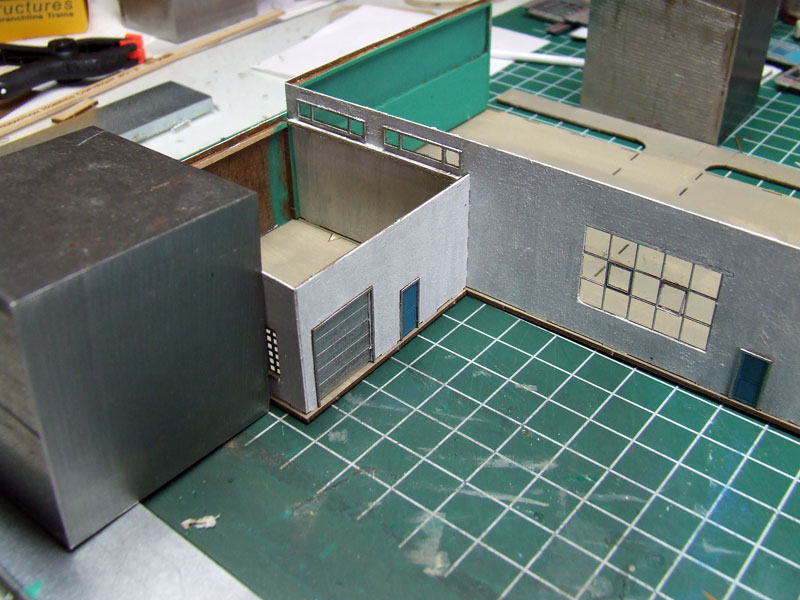 Tool workshop at the back.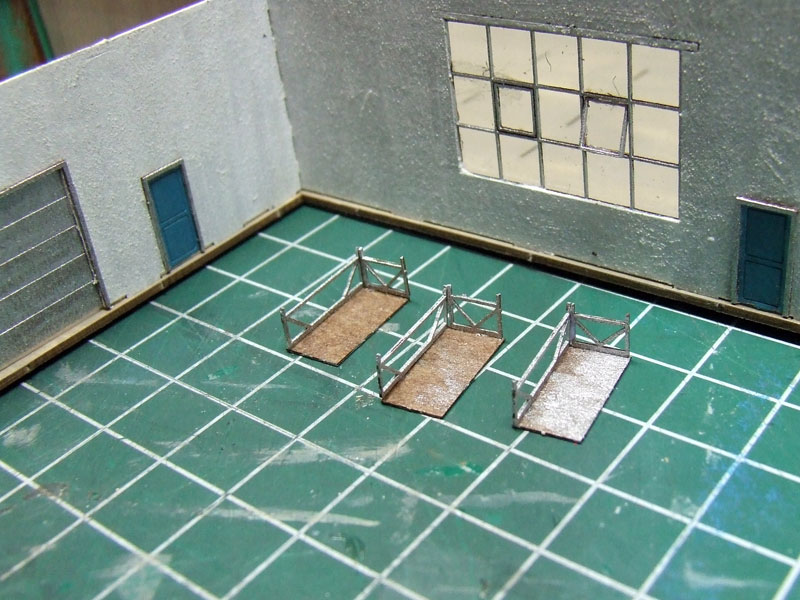 While waiting for the glued walls to dry, assembling the 3 workbenches provided in the kit.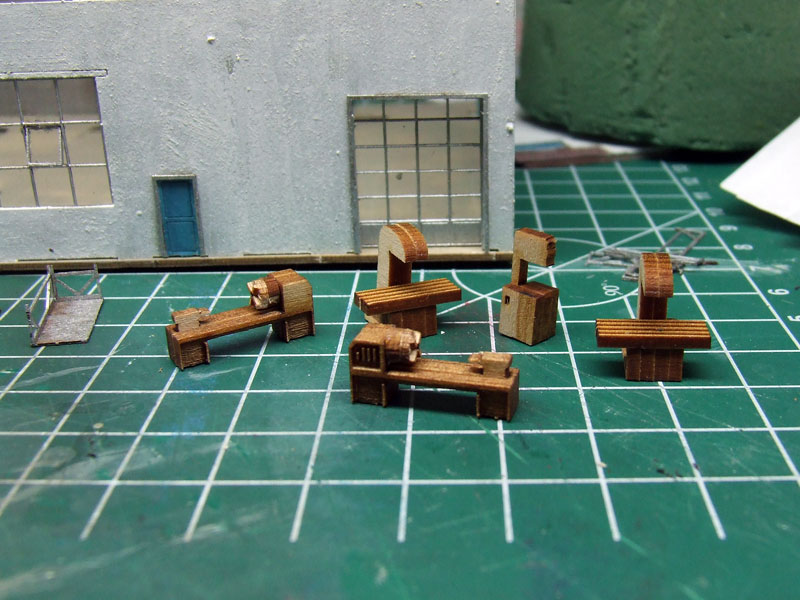 Mill, Lathe and Bandsaw after assembly before painting, sorry forgot to take a pic after painting.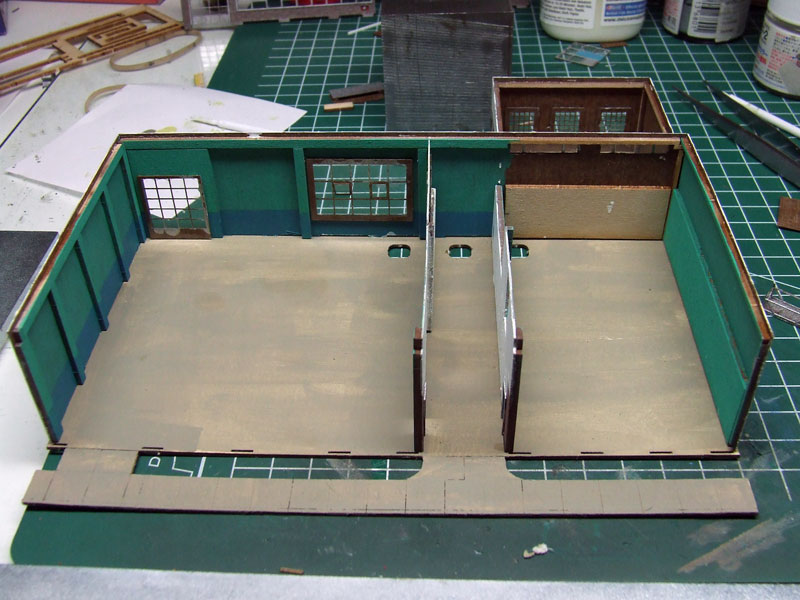 2 inner walls assembled
Painted machines and some Noch mechanics installed, then assembled the front wall.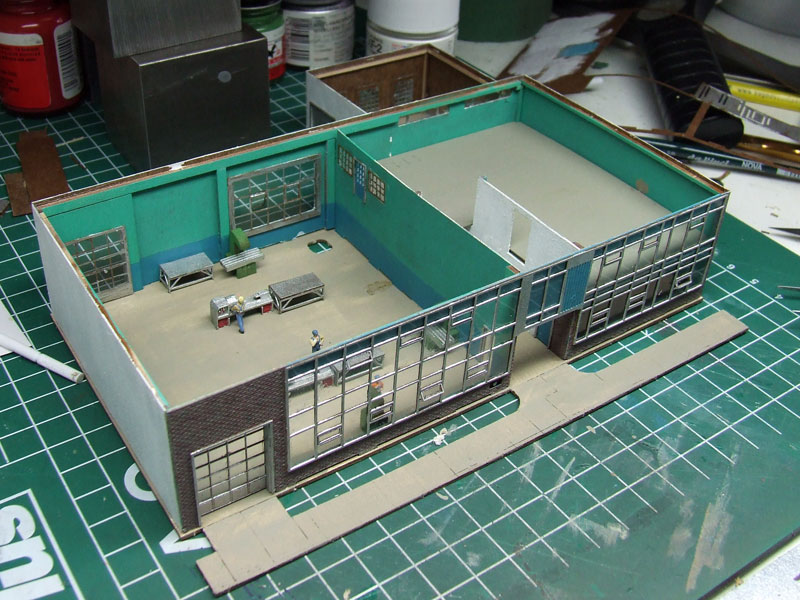 Some more photos of the structure so far.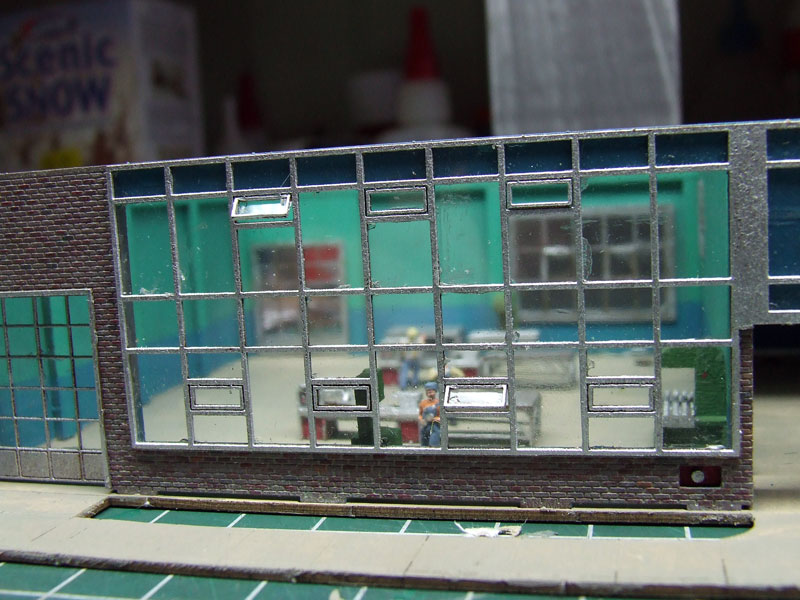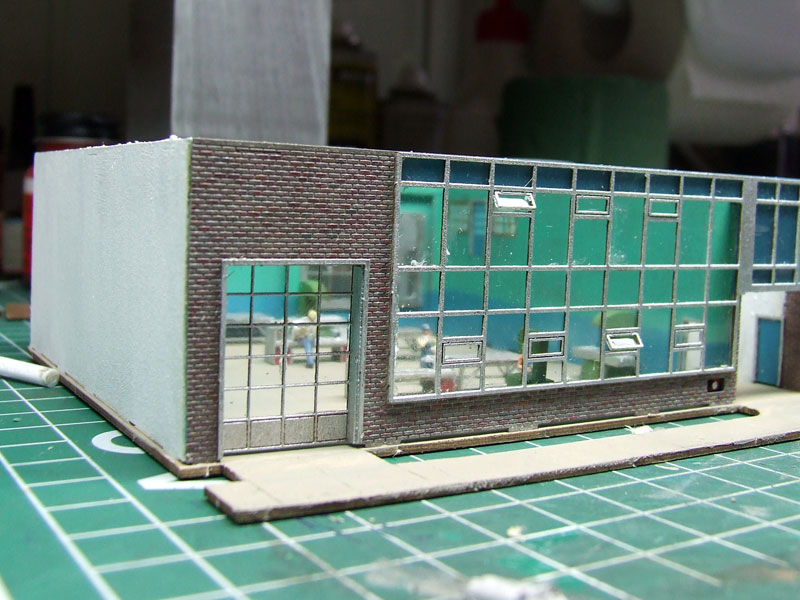 Next up is the staircase inside and the front entrance.
Building the staircase, the 2 beams stuck in Tacky Gum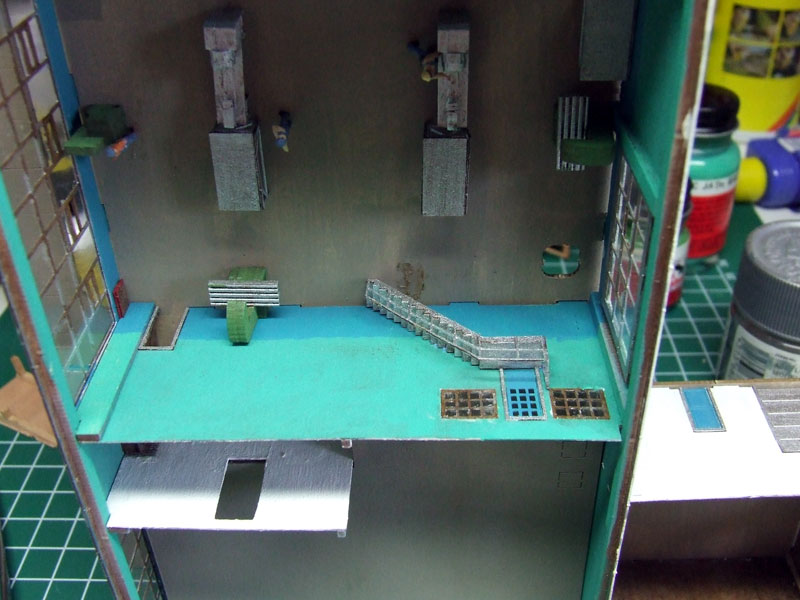 Placing the staircase , no the photo is not the wrong way around, the staircase is lying on the wall.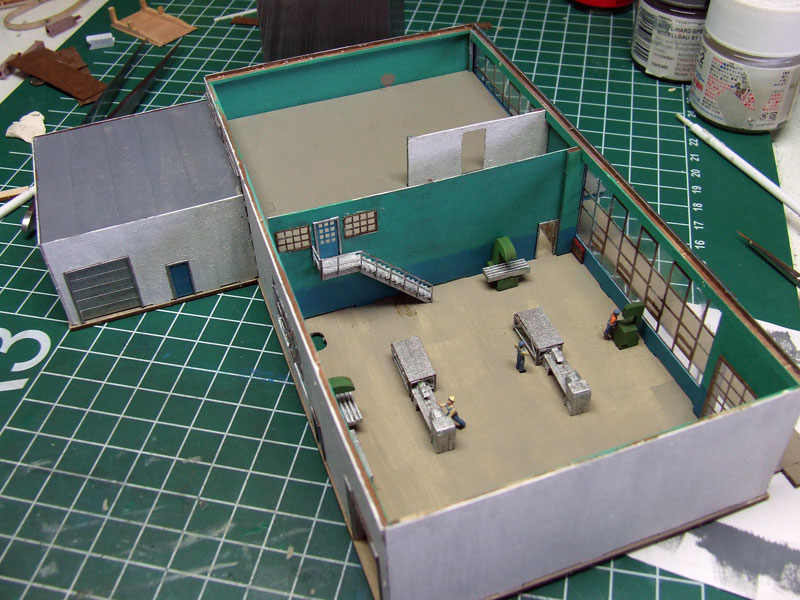 Staircase in place, and a clear view of the working men. Have to get me a lighting set for this structure.
The entrance in place.
The building almost finished, mounted on a foam base. Sidewalks and paved road.Some grass and weeds.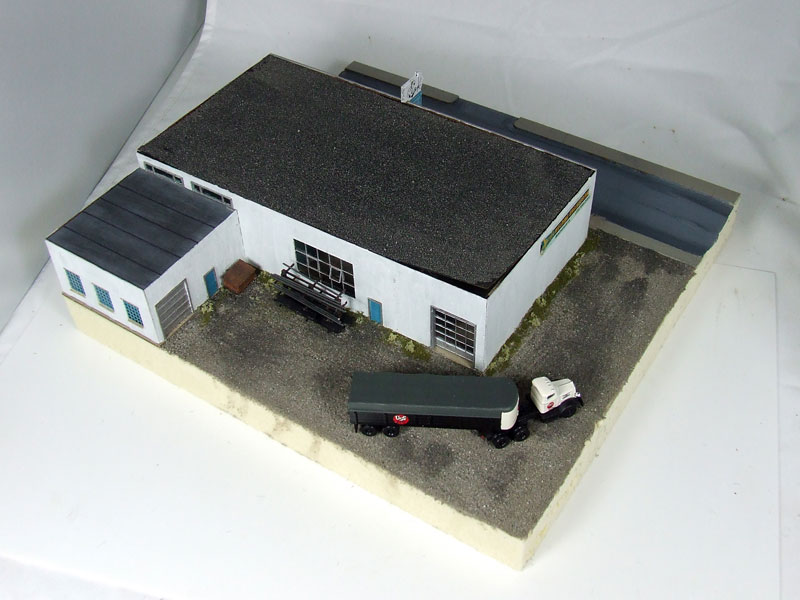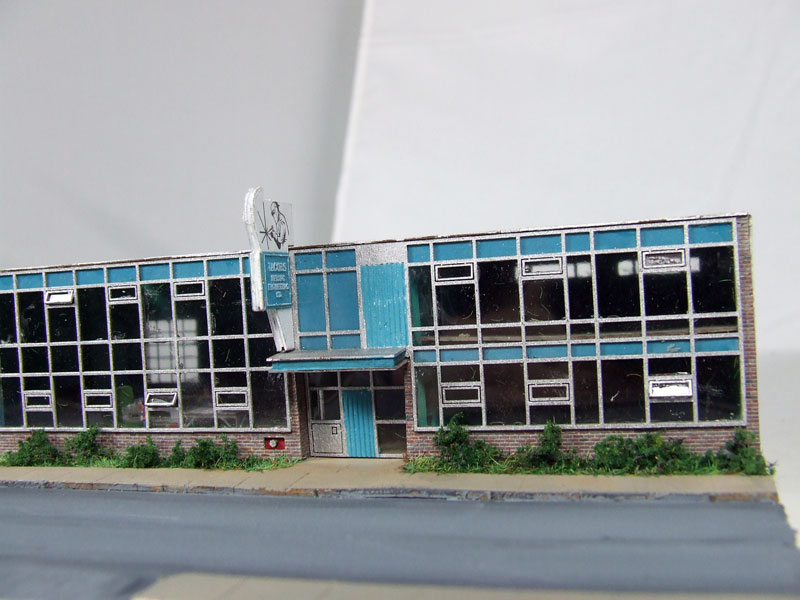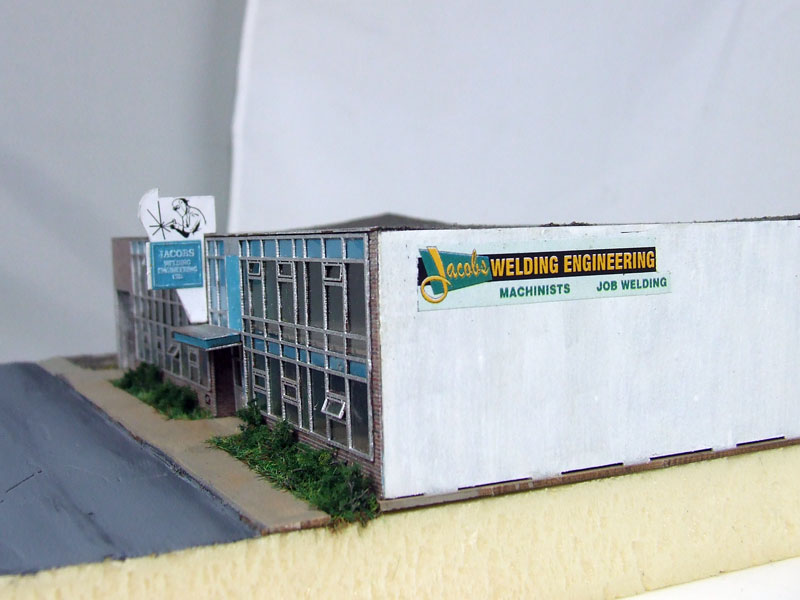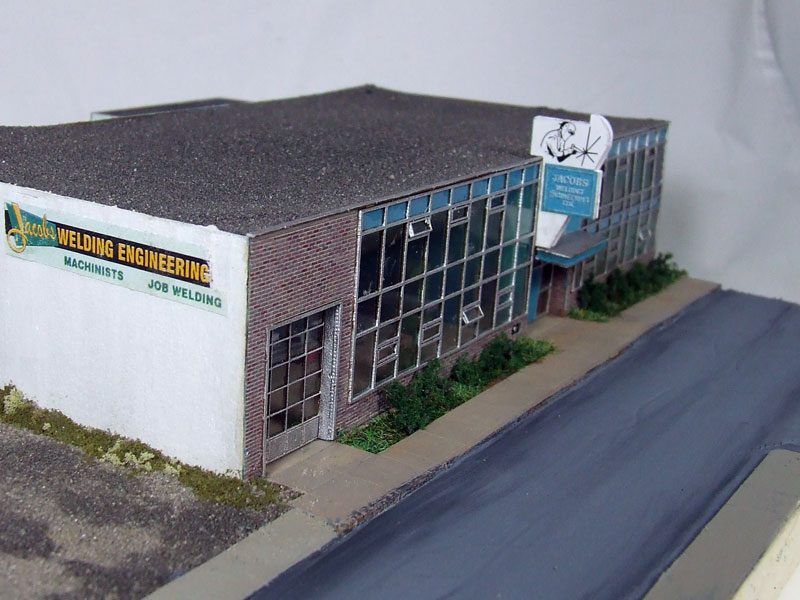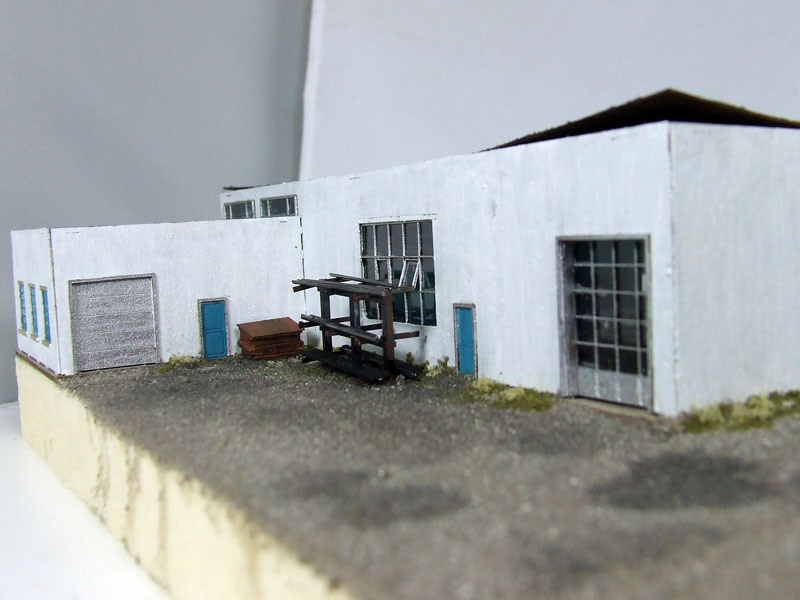 A garbage bin and a scaffold with pieces of iron at the back, and a US Steel truck delivering iron.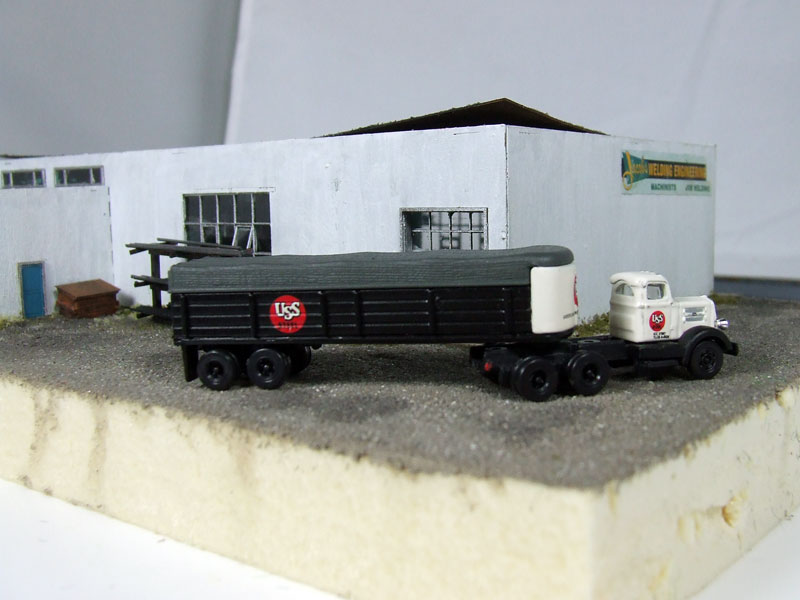 The roof is black paint sprinkled with fine sand colored with dye, it curls up a bit because I will be installing LED's before glueing it down and placing the rest of the trim.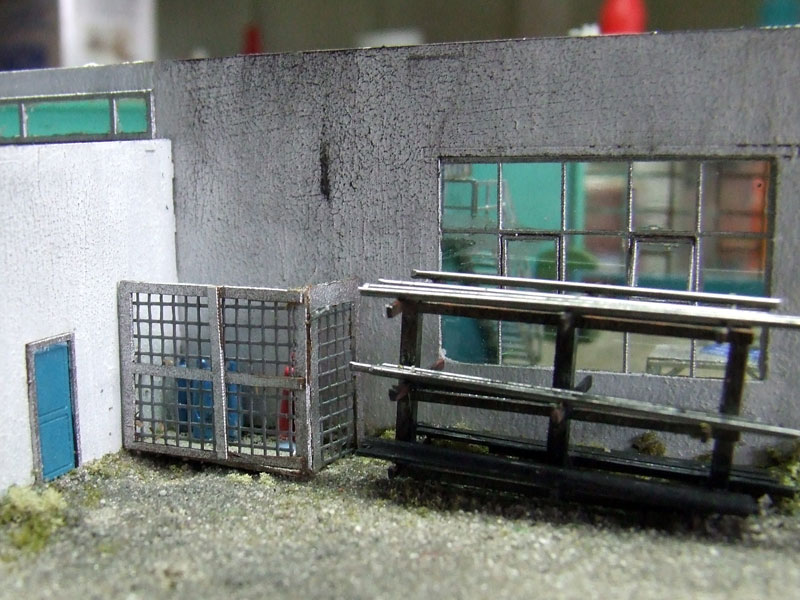 Added some more details, cage for gas cylinders, welding cart, a project they are putting together, bin inside, some sheet metal and did some very subtle black powder weathering on the outside walls.